Posts for: February, 2019
By Gentle Care Cosmetic & Family Dentistry
February 11, 2019
When your mouth is dry, you know it: that sticky, uncomfortable feeling when you first wake up or when you're thirsty. Fortunately, it usually goes away after you eat or drink. But what if your mouth felt like that all the time? Then, it's no longer an irritation—chronic dry mouth could also increase your risk of dental disease.
Chronic dry mouth occurs because of inadequate saliva flow. Saliva plays an important role in preventing dental disease because it neutralizes acid, which can cause the mineral content in tooth enamel to break down and lead to tooth decay. The mouth becomes more acidic right after eating, but saliva can restore its normal pH levels in about an hour—as well as some of the enamel's lost mineral content. Without saliva, your tooth enamel is at greater risk from acid.
While a number of things can potentially interfere with normal saliva production, medication is the most common. More than 500 prescription drugs, including many antihistamines, diuretics or antidepressants, can cause dry mouth. Cancer radiation or chemotherapy treatment and certain metabolic conditions like diabetes or Parkinson's disease can also increase symptoms.
If you are experiencing unusual dry mouth symptoms, see your dentist first for a full examination. Your dentist can measure your saliva flow, check your prescriptions and medical history, and examine your salivary glands for abnormalities. With this more accurate picture of your condition, they can help direct you to the most effective remedies and treatments for the cause.
If medication is the problem, you can talk to your doctor about alternative prescriptions that have a lesser effect on saliva flow. You can also drink more water before and after taking oral medication and throughout the day to help lubricate your mouth. Chewing gums or mints with xylitol, a natural alcohol sugar, can also help: xylitol helps reduce the mouth's bacterial levels, as well as stimulate saliva flow.
Easing your dry mouth symptoms can make your life more pleasant. More importantly, it can reduce your risk of future dental problems caused by a lack of saliva.
If you would like more information on dealing with chronic dry mouth, please contact us or schedule an appointment for a consultation. You can also learn more about this topic by reading the Dear Doctor magazine article "Dry Mouth: Learn about the Causes and treatment of this Common Problem."
By Gentle Care Cosmetic & Family Dentistry
February 01, 2019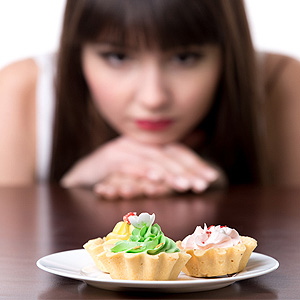 We've waged war for decades against tooth decay through oral hygiene and the increasing use of fluoride, nature's "super weapon" against this disease. And yet, tooth decay remains a significant health problem.
One major reason is refined sugar found in many processed foods. In the 1970s researchers raised concerns about the fat content of many processed foods, so manufacturers began removing fat from their products — along with much of the flavor. To compensate, they added sugar. Today, three-quarters of approximately 600,000 food products contain sugar.
This has increased average individual consumption to 90 pounds of sugar annually. The World Health Organization says we should consume no more than 20 pounds annually, or about 6 teaspoons a day. A single can of soda contains 4 teaspoons, two-thirds of the daily allowance.
High sugar consumption is an obvious threat to dental health: decay-causing bacteria thrive on it. But the trend has also been linked to serious health problems like diabetes and heart disease.
Hopefully, changes in public policy will one day modify the addition of sugar in processed foods. In the meantime, you can take action for yourself and your family to create a more healthy relationship with this popular carbohydrate.
Shop wisely. Learn to read and understand food labels: steer clear of those containing sugar or large numbers of ingredients. Become acquainted with sugar's many other "names" like corn syrup or evaporated cane juice. And maximize your shopping on a store's outer perimeters where you'll find fresh fruits, vegetables and dairy products, rather than the middle aisles with "boxed" processed items.
Avoid sugar-added drinks. Limit consumption of sodas, sports drinks, sweet teas or even juice to avoid added sugar. Make water or sugar-free beverages your go-to drinks. It's much better to eat sugar naturally found in fresh fruits and vegetables, where fiber helps slow it's absorption in the body, than to drink it.
Exercise. Depending on your condition, physical exertion is good for your overall health. It's especially beneficial for your body's ability to metabolize sugar. So with your doctor's advice, exert your body every day.
It's important to engender a proper relationship with sugar — a little can go a long way. Putting sugar in its rightful place can help you avoid tooth decay and increase your chances of greater overall health.
If you would like more information on sugar's impact on dental and general health, please contact us or schedule an appointment for a consultation. You can also learn more about this topic by reading the Dear Doctor magazine article "The Bitter Truth About Sugar."