Posts for tag: crowns
By Gentle Care Cosmetic & Family Dentistry
January 22, 2019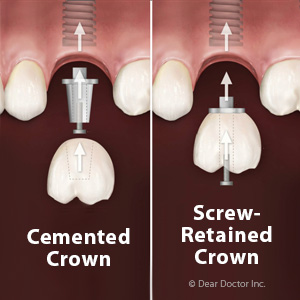 If you've lost a tooth, you have a number of options for replacing it. Perhaps the best choice in terms of lifelikeness and durability is a dental implant.
All implants have the same basic architecture: a titanium metal post imbedded in the jawbone to replace the root; and an abutment, a metal collar that links the post with a lifelike porcelain crown. But implants can vary in how the crown attaches to the abutment and post — either cemented to the abutment or screwed through the abutment to the post.
Either method will permanently secure the crown to the implant. But there are advantages and disadvantages for each.
A screw-retained crown may better facilitate any future repair that might be needed. For a skilled dentist it's a simple matter of removing the screw and then the crown from the abutment. There's less risk of damage to the implant during repairs or crown replacement. Many dentists also prefer screws for crowns placed at the same time they're installing the implant post (a procedure called immediate loading).
The screw access hole, however, could pose a cosmetic problem. Although we can cover it over with tooth-colored filling, it may still be noticeable and unattractive especially for a tooth visible when you smile (in the smile zone). There's also the possibility the porcelain around the access hole could chip.
By contrast, cemented crowns have a smooth, unbroken surface and are aesthetically ideal for smile zone teeth. But the cement could interact poorly with gum and bone tissue in some patients, causing inflammation and possible bone loss.
And unlike screw-retained crowns, cemented crowns are difficult to remove for implant repair. We may have to drill through the crown to access the screw between the abutment and the post, and then repair it cosmetically if we use the same crown. Again, the final result may not be quite as visually appealing.
In the end, it will depend on the implant's location, how your body reacts to the cement or your dentist's preference. In either case, though, you'll have a tooth replacement that's functional, life-like and able to endure for many years to come.
If you would like more information on dental implants, please contact us or schedule an appointment for a consultation. You can also learn more about this topic by reading the Dear Doctor magazine article "How Crowns Attach to Implants."
By Gentle Care Cosmetic & Family Dentistry
October 04, 2018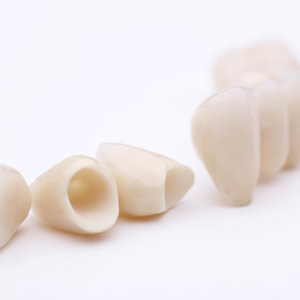 Crowns are a mainstay of cosmetic dentistry used to improve your smile's appearance in a variety of situations. Not all crowns are alike, though — and the differences could affect your cost.
Crowns or caps are needed to cover remaining tooth structure which was previously damaged. Tooth decay and trauma are the major reasons for damage or loss of tooth structure that make crowns necessary. After preparing the remaining healthy tooth to fit into the new crown, we then make an impression mold of the tooth for a dental technician to use to create the new crown. It's at this point where the road to your new smile can take different paths, both in construction and how much artistry goes in to your crown's formation.
Porcelain crown construction falls into two general categories. The first category involves life-like porcelain fused to an inner core of metal. Because many older types of porcelain tend to be brittle and subject to breaking under pressure, metals are used to strengthen the crown. A fused crown can thus provide both durability and a life-like appearance.
In recent years, though, new dental materials have made the second category — all porcelain crowns — a viable option. Either lithium disilicate or zirconium oxide account for nearly two-thirds of crowns made today. Although research on their durability is relatively new, initial results have been encouraging, showing advanced all-ceramic crowns can tolerate forces comparable to porcelain fused to metal (PFM) crowns used in bridges.
On the downside, these newer materials may be more expensive than PFM crowns. Costs for manufacturing may also increase depending on how life-like the matching of color with other teeth you desire your crown to be. For example, individual teeth aren't a uniform color — there are gradations of color that can vary from the tip of the tooth to the root. To capture these gradations in an individual crown requires a high level of artistry and time by the dental technician, which increases the final cost.
If you're in need of a crown, it's best to first make an appointment for a consultation to review your options, and to consider both your expectations and financial ability. Together we can determine what it will take to create a new look for your teeth that fits your expectations and your budget.
If you would like more information on dental crowns, please contact us or schedule an appointment for a consultation.